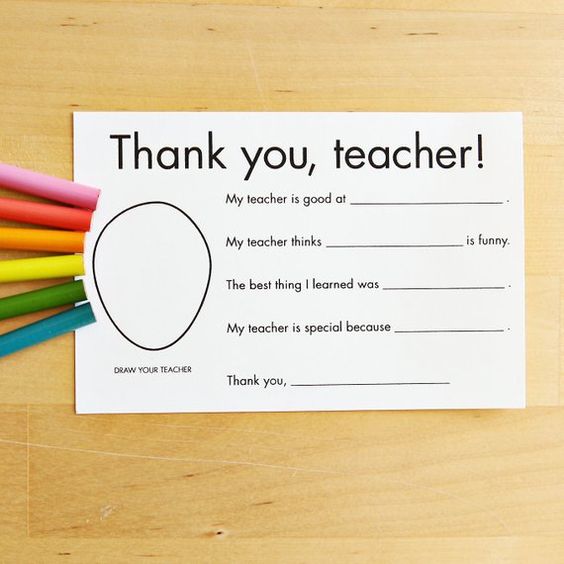 Teachers lay the foundation of knowledge and education in every person's life. They not only educate us but also teach us the lesson of life. Have you ever thought that when you get a chance to thank teachers through speech, what would you say? If yes, then we are here to help you. We have provided brief teacher appreciation ideas or thanksgiving quotes for teachers who can be spoken on such occasions as Teachers' Day.
You can take an example of our quotes for teachers on his or her farewell day or on Teachers' Day. The language of these thanksgiving quotes for teachers is very simple and effective, which will not only win the hearts of your teachers but also the hearts of your audience.
Teacher Appreciation Ideas:
Teachers who are also called gurus can be addressed by different names only but the importance of any teacher can't be compared to anyone. Teacher's work is to show people the right path through knowledge. Because of which teachers make the highest position in society.
So today I have come with a few teacher appreciation ideas through which you can appreciate your teacher or as a parent you can help your children to prepare a speech as teacher appreciation ideas.
You can prepare a speech to deliver on your teacher's farewell day or on Teacher's day with the help of some best teacher's appreciation quotes. Or you can also give them any present with it.
Now let's check out the quotes for your teacher appreciation ideas
Quotes for Teacher Appreciation:
"One looks back with appreciation to the brilliant teachers, but with gratitude to those who touched our human feelings. The curriculum is so much necessary raw material, but warmth is the vital element for the growing plant and for the soul of the child."
-Carl Jung
"Teaching is a very noble profession that shapes the character, caliber, and future of an individual. If the people remember me as a good teacher, that will be the biggest honour for me."
-A. P. J. Abdul Kalam
"I was lucky that I met the right mentors and teachers at the right moment."
–James Levine
"Mama was my greatest teacher, a teacher of compassion, love, and fearlessness. If love is sweet as a flower, then my mother is that sweet flower of love."
-Stevie Wonder
"Education is the key to success in life, and teachers make a lasting impact on the lives of their students."
-Solomon Ortiz
"The mediocre teacher tells. The good teacher explains. The superior teacher demonstrates. The great teacher inspires."
-William Arthur Ward
"If a country is to be corruption free and become a nation of beautiful minds, I strongly feel there are three key societal members who can make a difference. They are the father, the mother and the teacher."
-A. P. J. Abdul Kalam
"A great teacher who is full of excitement and love for her students can make all the difference in their lives."
-Deval Patrick
"Technology is just a tool. In terms of getting the kids working together and motivating them, the teacher is the most important."
-Bill Gates
"Everyone who remembers his own education remembers teachers, not methods and techniques. The teacher is the heart of the educational system."
-Sidney Hook
"Any good teacher knows how important it is to connect with students and understand our culture."
-Adora Svitak
"Heroes represent the best of ourselves, respecting that we are human beings. A hero can be anyone from Gandhi to your classroom teacher, anyone who can show courage when faced with a problem. A hero is someone who is willing to help others in his or her best capacity."
-Ricky Martin
"One good teacher in a lifetime may sometimes change a delinquent into a solid citizen."
-Philip Wylie
"I have come to believe that a great teacher is a great artist and that there are as few as there are any other great artists. Teaching might even be the greatest of the arts since the medium is the human mind and spirit."
-John Steinbeck
"Now, what really makes a teacher is love for the human child; for it is love that transforms the social duty of the educator into the higher consciousness of a mission."
-Maria Montessori
"Good teachers know how to bring out the best in students."
-Charles Kuralt
"Teachers can change lives with just the right mix of chalk and challenges."
-Joyce Meyer
"I think the teaching profession contributes more to the future of our society than any other single profession."
-John Wooden
"Teachers, I believe, are the most responsible and important members of society because their professional efforts affect the fate of the Earth."
-Helen Caldicott
"A good teacher is like a candle – it consumes itself to light the way for others."
-Mustafa Kemal Atatürk
"Teachers are our greatest public servants; they spend their lives educating our young people and shaping our nation for tomorrow."
-Solomon Ortiz
"It is the supreme art of the teacher to awaken joy in creative expression and knowledge."
-Albert Einstein
"If you have to put someone on a pedestal, put teachers. They are society's heroes."
-Guy Kawasaki
"The duties of a teacher are neither few nor small, but they elevate the mind and give energy to the character."
-Dorothea Dix
"So what does a good teacher do? Create tension — but just the right amount."
-Donald Norman
"Teaching is a calling too. And I've always thought that teachers in their way are holy — angels leading their flocks out of the darkness."
-Jeannette Walls
"The true teacher defends his pupils against his own personal influence."
-Amos Bronson Alcott
"True teachers use themselves as bridges over which they invite their students to cross; then, having facilitated their crossing, joyfully collapse, encouraging them to create bridges of their own."
-Nikos Kazantzakis
"The influence of teachers extends beyond the classroom, well into the future."
-F. Sionil Jose
So, in the coming teachers' Day prepare a speech for your teacher to appreciate him or her with these superb teacher appreciation ideas or quotes.
To Get More Ideas Click The Links Below:-
Delicious And Easy Recipes Of Pasta Salad
How To Host Family Get Together On Budget?
What Things To Do On Your Birthday In A Low Budget?
Best Ideas for Road Trip with Mom on Mother's Day
Naughty Ideas For Bachelorette Party Gifts
How To Appreciate Teacher | Teacher Appreciation Ideas
DIY Gifts For Mothers Day Craft Ideas
Essay On All About My Mom For Students
Perfect Gift Ideas For Teen Boys on His Birthday!
Homemade Last Minute Dinner Ideas Over Restaurant Food
Easy And Delicious Instant Pot Dessert Recipes