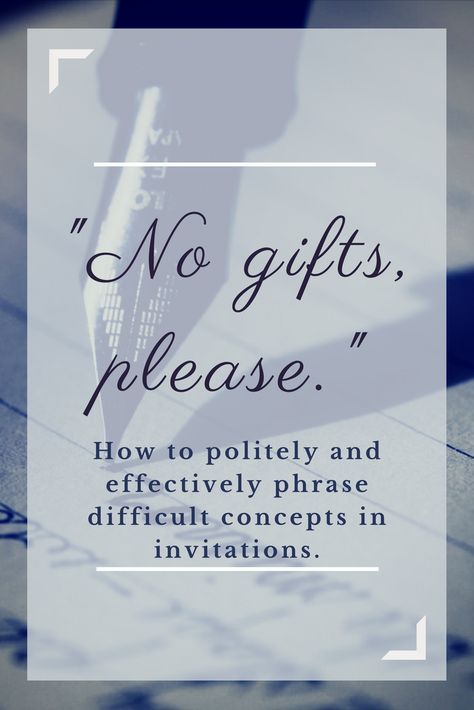 You can use your invitation to convey the message that you do not want any gifts on your special day, although some experts advise against this. This is because when you mention "NO GIFTS"… you indirectly emphasis on "GIFTS". However, it is okay to mention "No Gifts Please Wording" on your invitation in a mannerly way. You can be direct and simple by using "No Gifts Please Wording" or you as well can add somewhat a little text such as "Your present to us is your presence." 
Or can also use some other short and simple No Gifts Please Wording or text from the below-mentioned messages…
No Gifts Please Wording/Text
"No gifts" have the possibility to make the guest a little bit harsh. In case you're taking the no gifts route then you must consider make softer your phrase to one of these alternative phrasings:
Your affection and amity is the sole gift we desire or need. 

On our special day, we need nothing but your presence. The very best present for us, is your presence on the dance floor!

As valued as your presents may be, they aren't required as you will see. Only the presence of our friends and family will do, and thus make our day extraordinary too.

Please only bring your company as well as your appetite on our special day instead of any gifts.

Present us simply with the integrity of your presence rather any gift item

Your appearance at the party is adequate for a gift.

We would desire your presence instead of your presents!

Having you and your family at our party is everything that we desire; however, contributions of your blessings towards our great future will greatly be appreciated

As you know we're already lucky enough to possess a home together, we've decided not to demand any gifts for our special day.

Your affectionate presence in our lives is a great present…we wish no other.

A lot of you are going to travel a really long distance to attend our special day, so please don't feel indulged to bring us anything else as a gift!

Your appearance is our best gift.

No gifts please, only your presence.

We wish to receive your presence, your blessings, and good wishes as gifts.

Your presence will be the best present you could ever give us on our special day
NOTE:
We advise insertion of any of the above No gifts please wording in the lower left or right corner of the invitation card so it does not affect your wedding phrasing yet is still visible. However, you can as well place any of these No gifts please wording on the greeting cards rather than on the invitations.
FAQ:
Is It Okay To Use No Gifts Please Wording?

YES, it is okay to use no gifts please wording. However, the very mention of "NO GIFTS, PLEASE" emphasis on the "GIFTS". So, you must use your no gifts please wording wisely.

How Can I Use No Gifts Please Wording?

We advise insertion of any of the above No gifts please wording in the lower left or right corner of the invitation card so it does not affect your wedding phrasing yet is still visible.

Is it rude to ask for no gifts?

Whether is it rude or polite to ask for no gifts, is dependent on your use of no gift please wording. Use your words wisely to ask for no gifts.

How do you politely ask for no wedding gifts?

To politely ask for no wedding gifts use soft and polite wording. To know more check out these no gifts please wordings…
More Recommended Articles :-