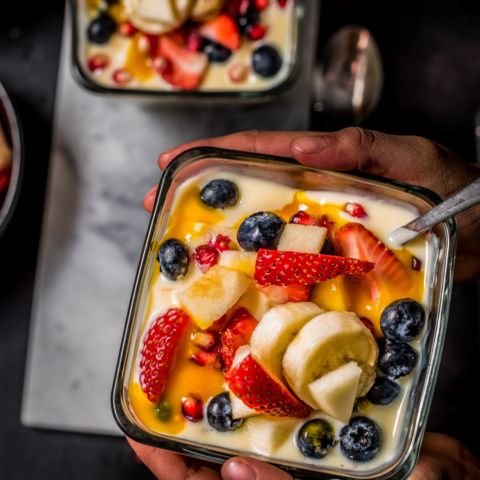 Kids love to eat anything sweet. Having desserts is the best part of their day. But the mother's got worried about kids eating habit as well as can't figure out how to satisfy their kids with different types of dessert recipes for kids. If you are among those moms then do not worry as today I have come with a handful number of dessert recipes for kids.
So, check out the tasty yet healthy dessert recipes for kids to satisfy their taste buds as well as to provide them an adequate amount of nutrients. Here we go with the recipes…
Dessert Recipes For Kids:
More or less every kid is crazy for desserts. Sometimes only to have the desserts they finish their meal as soon as possible. So, in that way you treat your child and build a good eating habit. So, here we go with some of the best dessert recipes for kids in this article below:
Gajar Ka Halwa (Carrot Halwa):
Carrot contains plenty of beta-carotene, which is a vital nutrient for a kid that helps to enable healthy progress in children. The Beta carotene has a significant role in constructing immunity. Carrot has dietary fiber that slows down the engagement of sugars into your kid's bloodstream. Carrot also contains thiamin, vitamins C and K, vitamin B6, manganese, and niacin.
Ingredients for Gajar Ka Halwa:
2 cups of grated carrots
2 cup of milk
7 to 8 tablespoons refined cane sugar (as per the requirement, the quantity of this can be reduced or added)
12 to 15 raisins
8 to 10 sliced or whole ​​cashew nuts
7 to 8 unsalted pistachios
A ¼ cup of almond paste (optional)
5 to 6 crushed cardamom or powder
A pinch of saffron (optional)
2 tablespoons non-flavoring oil (sunflower oil)
Method to Prepare Gajar Ka Halwa:
Wash the carrots and peel off the skin and then grate the carrot
Mix almond milk and grated carrots in a pan
Put them on the fire and let the mixture boil
Keep boiling and keep stirring in between
When the mixture starts to thicken, add sugar and oil
Add cardamom powder after 15-20 minutes
Let it cook for some times
When the mixture becomes almost dry, put the almond paste and dried fruits, then continue for another 2-3 minutes and keep cooking.
You Gajar ka halwa is ready to be served now
You can store it for 3-4 days by keeping it in the refrigerator
Kaju Barfi / Kaju Katli (Cashew Slice) Recipe:
Kaju barfi or Kaju katli is one of the best dessert recipes for kids. Cashew is a natural power-packs of nutrients such as vitamins, antioxidants, minerals, healthy fats, fiber, and protein that help kids grow. Here check the Kaju barfi / Kaju katli recipe.
Ingredients for Kaju Barfi / Kaju Katli (Cashew Slice):
1 cup of cashew nuts
A ½ cup of sugar or as per your requirement
5 tablespoons of water
1 teaspoon of coconut oil (optional)
1 tablespoon cut of rose petals or rose water or saffron (optional)
Methods to Prepare Kaju Barfi / Kaju Katli (Cashew Slice):
Grind cashew nuts in a grinder and make a powder (Cashews should be in powder form and should not be in smoothie form)
On low flame, heat sugar and water in a non-stick pan
Put the oil in a plate or tray by separating it
When sugar is completely dissolved in water, add cashew powder and keep the mixture running on a low flame
The mixture of cashew nuts will become thicker after some times
Cook cashews for about 7-9 minutes until the whole mixture gets well mixed, then remove the whole mixture from the pan and place it in a bowl
Mix rose petals or saffron in the mixture of cashews
If the mixture is so hot that you can touch it, knead cashew mixture
Spread the dough and put it on an oil-plated plate or tray
Put a wax paper on the upper part of the dough and using the cylinders, pour the dough around all the sides, until the dough remains 3-5 mm thick
Then remove the wax paper and let the cashew nuts cool down
When cashew nuts are fully cooled, use a sharp knife to cut it into a square or diamond shape
Slowly remove kaju barfi or kaju katli using a knife
Whether you take cashew nuts immediately or keep it in an airtight container
Fruit Custard Recipe:
The fruit custard is one of the most delicious dessert recipes for kids. The fruit custard is usually prepared with cut fruits, custard powder and milk. Fruits custard dessert recipes for kids are certainly one of the best methods to give fruits to your kids who do not want to eat fruits.
Ingredients for Fruit Custard:
1-liter milk
2 mangoes
1 banana
100 grams of grapes
2 peeled apples
70ml cold milk in a bowl
150g cream
30g custard powder
150 grams of sugar
Method To Prepare Fruit Custard:
Boil 1 liter of milk on a high flame
Mix 70 ml custard powder in milk and keep it aside
Add milk with custard after a boil
Add sugar in half a minute and let it stay on for 20 seconds
Turn off the heat and keep it aside to cool down completely
In 3 hours, your custard will cool down
Now add cream to the cold custard, and then add the fruit
Keep it in the fridge for 4 hours
Your delicious custard is ready
Jelly Fruit Cream Recipe:
The jelly fruit cream is one of the most liked dessert recipes for kids. This is a very colorful dessert that catches kid's eyes. It is very easy to make and extremely delicious to eat, if you taste it once, you will probably make it every day. So, check out the jelly fruit cream recipe here below:
Ingredients for Jelly Fruit Cream Recipe:
500g Cream
1 packet strawberry or raspberry flavored Jelly (You can pick the flavor as per your kid's)
Fruits of your choice
160 grams of powdered sugar
How to Make the Jelly?
Buy jelly powder packets from the market
Now take a jelly mold, put some butter or oil in it and spread it around so that the jelly does not stick and leave easily
Put in a jelly powder mold, then pour boiling water into it and mix it well
Keep it cool
When it cools, keep it in the freezer for half an hour
When the jelly is frozen, then it is ready to be served
Method to Prepare Jelly Fruit Cream:
First, put the cream in a large bowl
Now run it with a light spoon so that it becomes creamy
Then mix the powdered sugar and mix well
Take the sliced fruits and mix it with cream
Your fruit cream is ready
Keep it in the fridge for half an hour
Then serve the fruit cream with jelly
You can either serve it in a bowl or in a glass. For this at first, cut the jelly into pieces and then place the piece of jelly in the container and then pour the fruit cream over it.
Chocolate Muffin Recipe:
There is no kid who does not like chocolate. Kids go crazy about chocolate. The chocolate muffins are usually light as feather; however, it is also pack with a rich amount of chocolate. So, next time when you will think of giving your child a tasty treat of dessert then prepare this.
Ingredients for Chocolate Muffin Recipe:
1¼ cup of flour
4-5 tablespoons cocoa powder
1 cups of butter
Baking powder 1 teaspoon
¼ teaspoon of baking soda
1 cup of condensed milk without sugar
Vanilla essence 1 teaspoon
1 cup of sugar (or as per taste)
Lukewarm water 2-3 tablespoons
2 Tablespoons chocolate pieces for garnishing
Method to Prepare Chocolate Muffin:
Heat oven at 370° F
Take sugars and butter in a bowl
Butter is neither too tight nor melted
It would be better for you to use finely ground sugar
Now mix it with the help of hand blender
In about two minutes it will be very light and fluffy
If you are flicking it with your hand, keep in mind that this process takes 15-20 minutes
Remember that you should rotate is always in the same direction
Now put vanilla essence in it and mix it for a few seconds
Then filter the flour, cocoa powder, baking soda, and baking powder in small portions
Now add the condensed milk in a bowl of whipped cream and sugar cream in small portions
The batter of cake must be like of the dumpling solution, so if you have more drying solution, then you can add a little lukewarm water to it
Now put paper cups in the muffin tray
Put approximately one and a half tablespoons of batter in each cup
Decorate it with a piece of chocolate
Now heat the muffin tray in the oven and cook it at 370° F until 20-22 minutes or until the cake becomes golden
To check whether the cake is cooked, put a clean toothpick inside the cake from the side
If the toothpick comes out clean then it means that the cake has been cooked if the cake sticks in the toothpick, then it means that the cake is still raw then cook the cake more
Allow the muffins to cool down and then serve these delicious chocolate muffins
If you want, you can store them and eat them for a few days
You can serve the Chocolate muffin with the vanilla ice cream, then it looks delicious.
So, with the help of these dessert recipes for kids, you can treat your kid's taste buds. These dessert recipes for kids are not only tasty but also very healthy for your kid.
To More Tips Click Those Link Below:-
What Is The Importance Of Home Depot Kids Workshop?
What To Do For My Birthday Without Getting Wasted?
What Are the Things Money Can't Buy?
15 Minute Meals | Delicious Meal Recipes
What To Make For Dinner With Chicken?
Homemade Healthy & Cheap Lunch Ideas For Work